2018 Fall Convention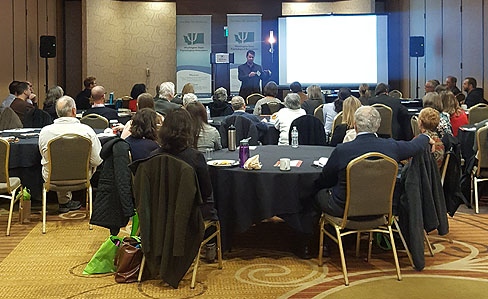 You are invited to attend our 2018 fall convention. This years theme, Coming Together: Psychological Science and the Practice of Healing highlights the essence of what we do as psychologists. The three-day convention is the premier event for member and non-member psychologists and affiliated mental health professionals to earn up to 18 CE credits, and experience peer to peer networking that can never be matched online.


Our programming will cover new ways clinicians and clients connect with each other, policies that affect our profession, and conversations about psychology with the general public. Workshops on current and trending topics including technology in practice, psychopharmocology, ethics and the law, and the current status of our states duty-to-protect policy.
Other convention highlights include our keynote speaker AnnaLisa Gellermann, JD, a student poster session, Washington Psychologist Awards luncheon, breakfast for newly licensed psychologists, networking luncheon for ECPS, a cocktail reception for our retiring DPA, Dr. Lucy Homans, and our annual meeting that is open to all WSPA members. A number of sponsors and exhibitors is also planned to provide attendees information on their services.
This years host hotel is the Hilton Hotel in Bellevue, WA., conveniently located off of I-405, and approximately 18 miles from SeaTac airport. Attendees will enjoy free parking, a special convention Wifi connection and nearby eateries for lunch. A limited number of specially priced single and double guest rooms at $109 are also available through October 10, 2018.
Sponsorship, Advertising and Exhibitors
The convention has many affordable opportunities for individuals, groups, vendors, and corporations to support our 2018 convention. There are seven sponsorship levels, display advertising in the convention program and Washington Psychologist Awards program, and a limited number of exhibitor spaces available.
Convention Schedule
The information below are workshops that have been approved to date. Attendees have the opportunity to earn up to 6 CEs per day. We will update the workshops as they are approved, so check back often.
Keynote Speaker:
AnnaLisa Gellermann, JD - Chief deputy commissioner for the Office of the Insurance Commissioner

Topics for Friday include:
OIC: The Coverage Challenge (Keynote): 1.5 CE


Psychologys Role in Addressing the Opioid Crisis - 1.5 CE

More than Al-Anon and Nar-Anon: Therapeutic Approaches and Techniques to Help Families of Loved Ones with Addictions - 1.5 CE

Executive Function in ASD: Current Research and Interventions - 1.5 CE

Compassion Fatigue: Caring for Those in Need Without Losing Yourself - 1.5 CE

Working with Injured Hispanic Laborers: Cultural Considerations and Successful Techniques - 1.5 CE

Children and Psychotropic Medications: A Guide for Psychologists - 1.5 CE

Core Competencies in Relational Psychoanalysis: A Qualitative Research Study - 1.5 CE

Considerations When Treating Asian Americans - 1.5 CE

TMS, ECT, and Ketamine: When Medications and Therapy Aren't Enough - 1.5 CE
---
Additional events scheduled for Friday:
Topics for Saturday include:

Ethical, Legal, and Professional Considerations for Early Career Psychologists - 1 CE


7:45 a.m. - 9:00 a.m. This breakfast workshop is for newly licensed psychologists, by special invitation only

The Duty to Protect: Ethical, Legal, and Professional Considerations - 3 CE (Ethics)

A Primer on Atypical Antipsychotics: What Psychologists Should Know - 3 CE

Psychological Evaluation of Asylum Seekers - 3 CE


Evidence-based Assessment and Treatment of OCD in Adults - 3 CE


Getting the Most out of Your Session: Leveraging the Art and Science of DBT - 3 CE


Diagnosing and Treating PTSD: Military and Veteran Considerations - 3 CE

---
Additional events scheduled for Saturday:
12:30 p.m. - 2:00 p.m. ECP networking lunch and All Attendees lunch (provided)
Topic scheduled for Sunday includes:
Legal and Ethical Risks and Risk Management in Professional Psychological Practice Sequence VII: Working with Couples and Families, Risk Management with the Suicidal Patient, and Legal and Ethical Issues presented by Retirement.

6CE (Ethics)

Dr. Daniel Taube

The Trust policy holders will receive a 15% premium discount on their Trust Sponsored Professional Liability Insurance for the next two consecutive years.

Thank you to our sponsors!

Washington State Psychological Association (WSPA) is approved by the American Psychological Association to sponsor continuing education for psychologists. WSPA maintains responsibility for this program and its content.